ICE HEATING, COOLING
& PLUMBING

TRUSTED

HVAC REPAIR

IN NORTH LAS VEGAS, NV
In Need Of
HVAC Repair
In North Las Vegas?
Encountering an HVAC system breakdown can be frustrating and disrupt your daily routine. To alleviate this, we offer proficient HVAC Repair Services, ensuring a swift restoration of your HVAC system, and bringing it back to smooth operation.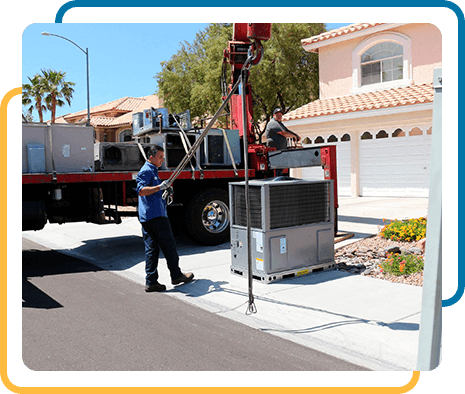 Why Choose Us for Your HVAC Repair Needs
in North Las Vegas?
With extensive years of experience in the industry, our team of skilled technicians possesses comprehensive knowledge and expertise in HVAC repair. We stay up-to-date with the latest technologies and advancements to deliver top-notch service.
Reliable and Prompt Service
We understand that HVAC emergencies can occur at any time, causing discomfort and inconvenience. Therefore, we offer 24/7 emergency repair services, ensuring our dedicated team is always available to provide dependable and swift solutions, day or night.
Customer Satisfaction Guaranteed
Your satisfaction is our utmost priority. We make an extra effort to ensure that every customer receives exceptional service. From our friendly and knowledgeable staff to our skilled technicians, we strive to exceed your expectations and leave you fully content with the results.
Prompt and Responsive Communication
Our team is dedicated to timely and responsive communication. Whether you have inquiries, need guidance, or want to schedule an appointment, we are always accessible to assist you. Reach out to us via phone, email, or through our website, and we'll promptly provide the assistance you need.
At ICE Heating, Cooling & Plumbing, we are a licensed and insured HVAC service provider, ensuring that our technicians meet all the necessary industry standards and regulations. This provides you with the assurance that our HVAC repair services are reliable and secure.
We take immense pride in being the trusted choice for HVAC repair in North Las Vegas. Our dedication lies in delivering superior service, surpassing your expectations, and ensuring your complete satisfaction.
Reach out to us today and experience the unique advantage of ICE Heating, Cooling & Plumbing, creating a comfortable and efficient home environment like never before.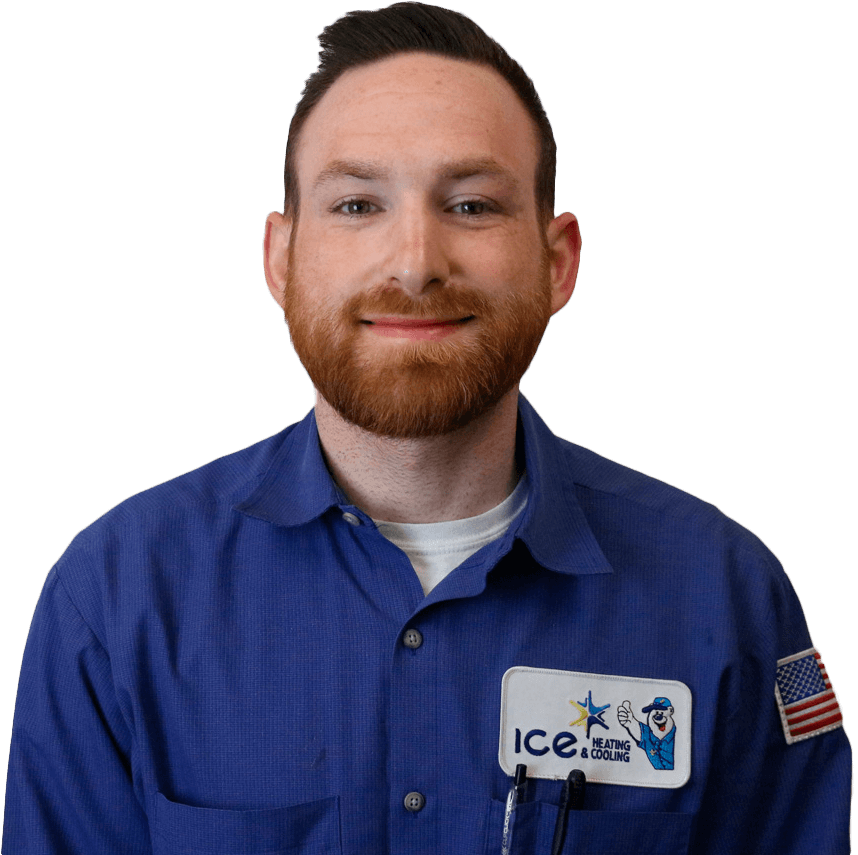 The ICE Way Of Doing HVAC Repairs
Our team of licensed technicians in North Las Vegas, NV, brings a wealth of experience and expertise to HVAC system repairs. Here's our systematic approach to HVAC Repair Jobs:
Common HVAC Issues People Face
Irrespective of whether your HVAC system is having trouble delivering enough cool or warm air, our team is highly skilled at promptly and efficiently diagnosing and resolving the issue. Here are some common HVAC problems frequently experienced by our valued customers:
Affordable Pricing and Financing Options
We firmly believe that everyone deserves access to top-notch HVAC repair services without straining their finances. Hence, we are dedicated to providing budget-friendly pricing and adaptable financing options to accommodate diverse needs.
Our aim is to ensure that you can receive essential HVAC repairs in North Las Vegas without facing any financial burden. We understand that unexpected breakdowns can be stressful, and our goal is to ease that stress by offering competitive rates for our services.
Emergency HVAC Repair Services
At ICE Heating, Cooling & Plumbing, your comfort is our utmost priority, and we recognize that HVAC emergencies can occur at the most inconvenient times. That's why we take pride in providing 24/7 emergency HVAC repair services in North Las Vegas. Whether it's scorching summer heat or a chilly winter night, our dedicated team is always ready to swiftly and reliably offer repair services when you need them the most.
With our 24/7 emergency HVAC repair service, you won't have to endure extreme temperatures for long. The moment you contact us, our skilled technicians will respond promptly and arrive at your location with the necessary tools and expertise to address any HVAC emergency.
Convenient Appointment Scheduling
We highly value your time and understand the demands of your busy schedule. At ICE Heating, Cooling & Plumbing, we provide convenient and flexible appointment scheduling options for your HVAC repair services in North Las Vegas. We recognize that finding a suitable time for repairs can be challenging, which is why we prioritize accommodating your needs and preferences.
Our dedicated team works around your schedule, ensuring that you receive the HVAC repairs you require at a time that suits you best. Whether you prefer weekdays, evenings, or weekends, we are here to adjust to your availability.
Get in Touch for Your HVAC Repair Needs
If you encounter HVAC issues or have any inquiries, don't hesitate to reach out to us at ICE Heating, Cooling & Plumbing. Our team of friendly and knowledgeable professionals is ready to assist you with expert repair services and provide the answers you seek.
Frequently Asked Questions about HVAC Repairs
in North Las Vegas, NV
How often should I get my HVAC system inspected in North Las Vegas?
Regular maintenance and inspections are essential for maintaining the optimal performance of your HVAC system, especially in the hot climate of North Las Vegas. To ensure peak functionality and prevent potential breakdowns, we recommend scheduling a professional inspection at least once a year.
Given the scorching temperatures in North Las Vegas, regular inspections become even more critical as they help alleviate the additional stress placed on your HVAC system. At ICE Heating, Cooling & Plumbing, we offer comprehensive HVAC inspection services in North Las Vegas. Our skilled technicians will thoroughly evaluate your system, identify any potential issues, and provide recommendations for necessary repairs or maintenance.
We acknowledge the unique challenges posed by the local climate and customize our inspections to ensure your system is well-equipped to handle the specific demands of North Las Vegas's weather conditions.
What are the common signs that my HVAC system needs repair in North Las Vegas?
There are several indications that may suggest your HVAC system requires repair in North Las Vegas. These signs include:
Uneven cooling or heating throughout your home.
Unusual noises emanating from the system, like grinding or banging sounds.
Unpleasant odors coming from the vents.
Frequent cycling on and off or difficulty starting up.
Rising energy bills without a corresponding increase in usage.
If you notice any of these issues, it is prudent to contact a professional HVAC repair service in North Las Vegas for prompt assistance.
Can I troubleshoot HVAC problems on my own before calling for repairs in North Las Vegas?
While it's natural to try and tackle minor HVAC issues, it is generally advised to seek professional help for repairs in North Las Vegas. HVAC systems are complex, and attempting repairs without the appropriate knowledge and tools may worsen the problem or even pose safety hazards.
How long do HVAC repairs usually take in North Las Vegas?
The duration of HVAC repairs can vary depending on the complexity of the issue. Minor repairs, such as replacing a faulty component, usually take just a few hours to complete. However, more extensive repairs or system replacements might require a day or longer. For a more accurate estimate, it's recommended to consult an experienced HVAC technician in North Las Vegas after a thorough assessment of the problem.
Are HVAC repairs in North Las Vegas covered by warranties?
The coverage of warranty for HVAC repairs in North Las Vegas depends on several factors, including the manufacturer, installer, and specific warranty terms. It is essential to thoroughly review the warranty documents related to your HVAC system to determine the repairs that are included. Additionally, many reputable HVAC repair companies in North Las Vegas offer their own warranties on the services provided, providing an extra level of assurance and peace of mind.
How can I prevent the need for frequent HVAC repairs in North Las Vegas?
Engaging in consistent maintenance is crucial for minimizing the frequency of HVAC repairs in North Las Vegas. Here are some preventive actions to take into account:
Regularly replacing air filters to ensure optimal airflow and system efficiency.
Keeping the outdoor unit free from debris, such as leaves and grass clippings.
Scheduling annual professional inspections and tune-ups.
Utilizing programmable thermostats and setting appropriate temperature levels to prevent excessive strain on the system.
By adopting these proactive measures, you can greatly reduce the likelihood of unforeseen HVAC breakdowns in North Las Vegas.
How do I choose the right HVAC repair service in North Las Vegas?
When selecting an HVAC repair service in North Las Vegas, consider the following aspects:
The company's standing and experience in dealing with HVAC repairs in the local vicinity.
The licensing and certifications of the technicians, ensuring their expertise and professionalism.
The availability of emergency services for immediate assistance during HVAC emergencies.
Transparent pricing and comprehensive explanations of repair recommendations.
Positive customer reviews and testimonials.
Taking the time to research and choose a trustworthy HVAC repair service in North Las Vegas will ensure top-notch repairs and reliable service.